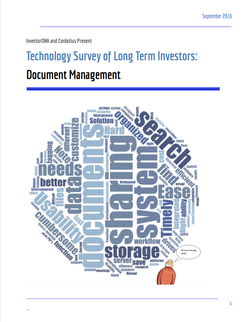 A Survey of Long Term Investors was conducted from July 8th, 2016 to August 11th, 2016, to better understand the state of Document Management within investment offices of Long Term Investors. The result indicated an extreme reliance on traditional/outdated solutions with low levels of satisfaction.
One highlight: there is no correlation between how much respondents invest on their technology and how satisfied they are.
Get access here
This link will take you to my library. You will need to pick a password.
---